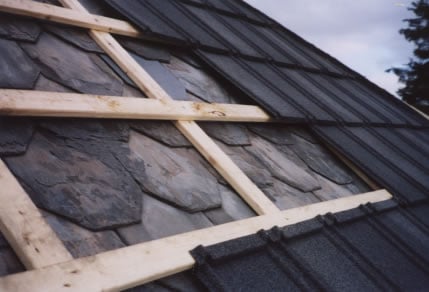 A visitor to the blog recently asked, "Can a metal roof be installed over a fibrous cement roof? If so, what method should be used to install?"
When we're asked if a metal roof can be installed one a fiber-cement roof, the answer is always a version of, "Well, that depends!" Fiber cement roofs, mostly discontinued now, were available in a few variations and mostly failed because the wood fiber in the assembly absorbed moisture, swelled and caused failure of the pieces.
As an aside, that's one of the reasons my blogs and
booklet
advise people to avoid being "lab rats" for new roofing products on the market. Stick with something like metal that has centuries of track record!
If you choose the right metal roof, installation over one of these types of roofs is possible but will probably require a wooden frame work or batten system to be built over the fiber-cement shingles before a new metal roof can be installed. It's not rocket science, but it requires some construction know how to create a frame work that won't destroy the old roof you're wanting to cover while at the same time creating a strong and secure attachment point to the roof structure beneath.
This photo shows a typical framing job of the type I'm describing, and short of building something like this beneath, it would be a very difficult proposition to install over fiber cement roofing. If you decide to go that way, then I would contact the manufacturer of the metal roofing you want to use and ask them for a recommendation. We have a few, but not every one of our systems could be installed that way. Good luck!
Read More