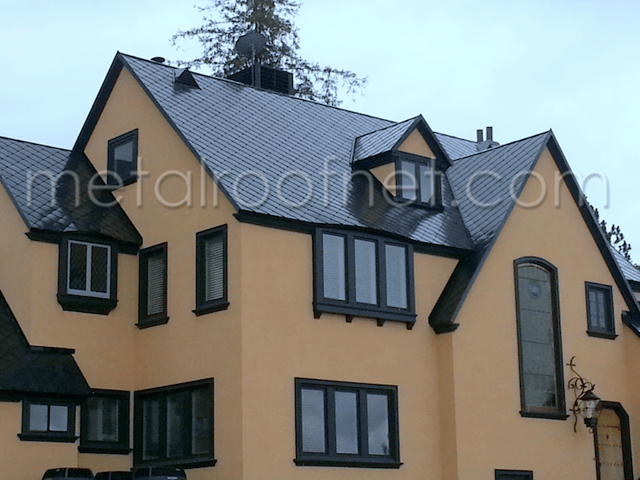 When it's time for a new roof, you have options. Just because you have concrete tile or composition asphalt shingles doesn't mean you're stuck replacing them with the same materials. After all, the roof is one of the biggest - and most overlooked - architectural features of a home. A new roof is an opportunity to change the entire look of your home, which is why it's worth at least considering different materials. Here are the pros and cons of a metal roof.
The Pros of a Metal Roof
There are many, many benefits to a quality metal roof.
Variety. No other roofing material offers the variety in aesthetics. You can choose from shingles, tiles, diamonds and panels in a range of beautiful materials, colors and textures.
Lifespan. Metal roofs that have been properly installed will last decades. There are copper roofs topping churches and cathedrals in Europe that have lasted hundreds of years! You can expect your metal roof to have a lifespan between 40 and 70 years. Compare that to asphalt roofing materials (the stuff you see everywhere), which have a life expectancy between 12 and 20 years. Don't be fooled by their claims of "40 Year Roofs."
Durability. Metal roofs are designed to withstand high winds, freeze-thaw cycles, corrosion, cracking, even hail. Some metals won't perform as well as others, so keep that in mind when you're doing your research. This durabilty means you can save on the periodic (and costly) maintenance common with other types of roofing.
Safety. Metal roofs are the safest roofing material you can have in the event of a house fire or lightning strike. They are incombustible and won't burn. Plus, their incredible light weight makes them a safer option in earthquake-prone areas.
Energy efficiency. Even metal roofs that aren't Energy Star certified tend to reflect, and not absorb, solar radiant heat. That can help reduce a home's cooling costs.
Environmentally friendly. Many metal roofs contain between 25 and 95% recycled content. And, once they've reached the end of their lifespan, metal roofs are 100% recyclable. Other materials, like asphalt shingles and concrete, end up in the landfill.
The Cons of a Metal Roof
We may be metal roof experts, but nothing is perfect. Here are some of the downsides to metal roofs.
Price. Some types of metal roofs, like copper and zinc, can be pricey. If you're planning to stay in your home for the long term, you'll save on your initial investment. But investing in a metal roof may not make sense if you're planning to move at some point.
Color matching. In the event that a home addition is added or repairs become necessary years after installation, it may be difficult to match the color of your existing roof.
Want to learn more about how metal roofing compares to other roofing materials? Download our free guides now.