If I'm hired by a contractor or architect to specify and source a metal roof for a project like the one you're likely considering if you're reading this or searching this website, I always ask the same questions: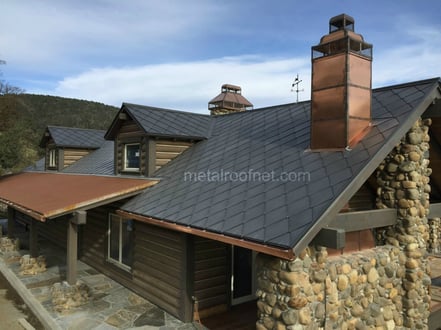 What are the goals with regard to appearance?
What are the goals with regard performance?
What quality level is desired?
For how long are you expecting this roof to do its job?
For example, you might intend to choose a shake pattern (with a resemblance to a concrete tile roof), or the "traditional" look of a metal roof by going to a standing seam profile. In either case, the architectural concern is strictly one of your personal taste and style.
Most metal roof profiles can be made in most types and quality levels of metal, so in that regard the choice is entirely personal. Since any of the metals we use can be formed into any of our profiles, and all of our profiles can be employed on almost any roof, the question of what type of metal roof to buy requires a little understanding of the various types of metals commonly used.
When I'm asked about choosing a metal roof, I regularly tell my clients that there are three things that heavily effect the price: the metal, the finish, and the details.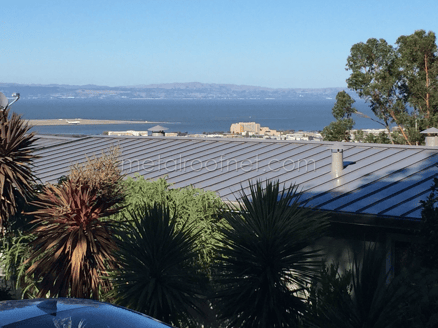 Material
On the material side, the metal is usually the biggest variable in the price of any given metal roof. Assuming the same profile and manufacturing process, the price can vary dramatically depending on the metal used to make the roof material. The thinnest, cheapest steel is roughly one tenth the price of a heavyweight copper, for example. So the difference in price for the same profile would differ by TEN TIMES in this case! Even just narrowing the metal choices to just one of the types of steel, it's still possible that there could be a 3 or 4 to 1 difference in price. Whether steel, aluminum, copper, or zinc, there can be big differences in alloys of each metal and there is often a corresponding difference in performance. So the type and gauge of the metal has to be considered carefully when comparing metal roof systems.
Finish
Also on the material side, most of the steel and aluminum used for metal roofing comes pre-finished, on one or both sides. The finish offers two benefits: color and protection.
Besides the obvious fact that a painted finish adds a color to a metal roof, the finishes can be applied to both the visible and concealed sides of a metal roof and can offer a useful, additional layer of protection to the metal that can extend its useful life. These finishes can be quite different in performance and the difference between a cheap finish and a premium finish can be quite dramatic. It's a significant difference in the price and lifespan of a metal roof.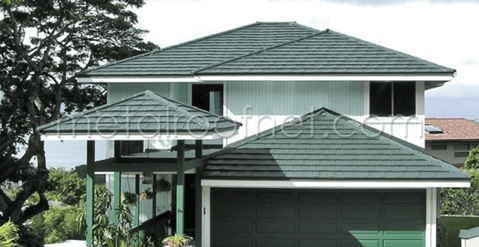 Details
Affecting both the material and labor side of the metal roof price equation are the details. For example, we can offer four different detail assemblies for a gable edge for most of our products - and customized versions of each. Some are relatively simple to execute, and a few are rather time-consuming for an installer to install. Consider that even a simple roof can require a drip edge trim, gable, hip, and ridge - plus chimneys, pipes and skylights on may applications. With the possibility of multiple details for each of these, it's possible that there could be dozens of ways of installing any given type of metal roof.
Only a knowledgeable roofer can offer a useful opinion as to which details offers the best combination of appearance and reliability - but anyone can have an opinion. When someone prices a metal roof, its only possible to evaluate the value of one type over another after knowing about all of these variables.
Adding the consideration that it's a very competitive field, and every supplier and installer wants to offer the lowest possible bid in order to "get the job," it must be interesting to many customers that some of the higher prices are offered by the most experienced metal roofers. The reason? Because quality metal, details, and execution takes time and money. Cheap solutions never stand the test of time, but quality choices have hundreds of years of proven value. So, choose an experienced manufacturer and installer, and take their advice about a suitable system and you will have the highest probability of a successful job and good value for the price of your new metal roof.
Want to learn more? Visit our Resources page for free downloads comparing metal roofing with other popular roofing materials, our re-roofing booklet, a copper fact sheet and more. Read our post about setting realistic metal roof budgets, plus our tips for getting the best price on a metal roof no matter which material you want.
If you have a project and you're ready to speak to someone for more information or pricing, contact us today.