As is usual around here, the majority of our blog posts are inspired by customer and prospective customer inquiries. Recently, someone contacted us for a metal roof estimate and inquired how he could get the very best price while comparing the costs of a new steel roof to costs of a new copper roof.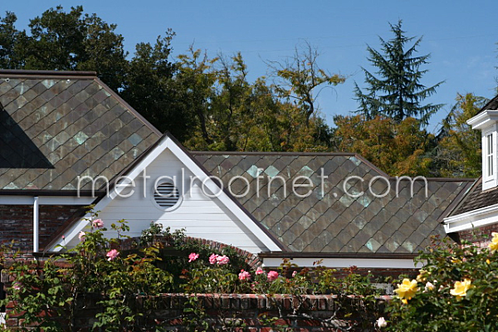 If you've read even a few of our posts about copper roofing, you'll recognize immediately that this is a bit of an extreme comparison - those in know usually consider copper and steel to be apples and oranges. Price is the most extreme difference. Metal roofs made of steel usually have material prices that start at about $1 a square foot and might rise to a little over $4 for the most commonly chosen versions. By comparison, copper roof prices generally start a little under $8 a square foot and can rise about $15. So, you can see that comparing the two material price-wise is a bit of a stretch. In both cases the price of the material is determined by the thickness of the metal (the "gauge"), the profile (tile, shingle, panel, diamond, shake, etc.) and the particular version of the metal (yes, even something as generic-sounding as "steel roofing" can be made from a big variety of alloys and plated sub-types). The two photographs in this post are good illustrations of options at either end of the price scale for metal roofs. The above image showcases our pre-patinaed solid copper diamond shingles. Below is our value panel in finished steel. Both offer longevity and durability, but even folks with no experience with metal roofing and their costs usually can see that these two types of metal roofing have very different prices.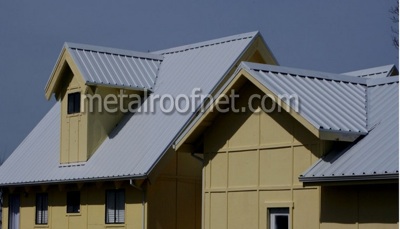 While many suppliers only carry one or two types of each category of metal roof, it may be very likely that the best version of steel or copper (or aluminum or zinc, etc.) isn't on their shelves or in their catalog. There are many applications in which a very specific type of steel or copper might be the most suitable and anything else might be a compromise.

When comparing prices for the various metals used for roofing applications, it's important to understand - or buy from a supplier who understands - all of the varieties that fall into the category you're after. Only then can you make a good decision about which version of the metal roof you want is best for you and well worth the price tag.