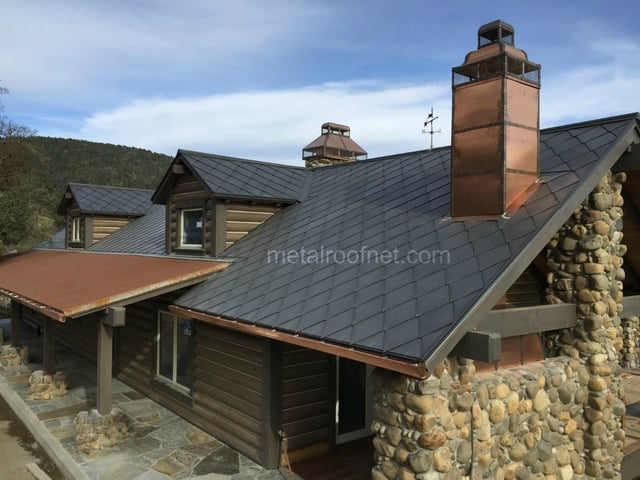 One of our well-read blog posts, "Pros and Cons of Going Over Existing Roof Material," is the inspiration behind today's topic. When a potential customer - who happened to comment on that post - received varying opinions about her failing composition shingle roof, she asked our opinion. She wanted to know whether she should tear off her old roof and put a new version of the same material on, or upgrade to a metal roof and avoid the necessity of tearing off the old stuff.

Of the benefits a good metal roof is the fact that many of them can be installed right over existing roof coverings (like asphalt or wood shingles and shakes). As you can imagine, this saves time, money and the landfill impact of removing and disposing of an old roof. While this isn't the rule for all metal roofs (for example, many standing seam profiles can require a smooth, flat deck as a substrate), there are lots of great metal roof profiles that work well installed over existing roofing. Here's how to figure out which options you have with your existing roof:


Time to Tear Off:

1. The existing roof is so really rough and uneven that it will probably negative impact the look of your new metal roof.
2. The existing structure is broken or rotten and will need repair before you can put on the new roof.
3. There are too many layers of existing roofing, and local or national codes mean that you aren't allowed to install more.
4. There are enough layers of existing roofing that they won't allow the nails or screws for a new metal roof to properly penetrate into a structural component.

Installing Metal on Top is the Best Move:

1. There are only one or two layers of existing roof, and new nails or screws can easily penetrate what's there to firmly anchor into the structural deck.
2. The deck beneath the existing roof is in good shape, with no rot or broken pieces.
3. The existing roof isn't too uneven or irregular.
4. There are no local building code restrictions preventing a job like this.

Usually, metal shakes, tiles and shingles are your best choice for installing over existing roofing, but there are panels like our Value Panel that are also designed for these kinds of applications. These panels can be installed successfully over an existing roof - and without compromising their performance or warranty.

Have a question? Ask us in the comments and we may write an entire blog post in answer. And if you have a roofing project, we encourage you to research the many options a metal roof gives you. Check out our Resources page for useful downloads or get a free estimate today.