Here's another post in a recent series about copper roofing. If you've been following along, you're well aware by now that copper roofing is not an inexpensive investment. Consider the following before you make your purchasing decision to avoid throwing money away on that beautiful new roof.
BEWARE YOUR SOURCES
Roofing supply houses and lumber yards rarely deal in copper roofing products. Knowledge borne from experience is extremely valuable in deciding which type of copper roof and accessory package will be the best for your unique application. While the counter sales help at a roofing supply store will know lots about asphalt or concrete roofing, the chances that he has any experience with copper roofing is remote at best. Ensure your copper roofing investment is protected by buying from someone who deals in the material every day and can give you useful advice and direction.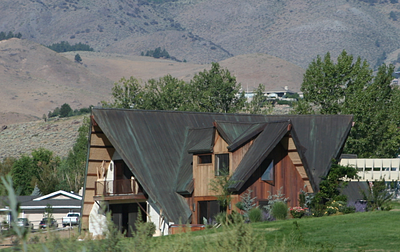 UNDERSTAND YOUR OPTIONS
Because we're copper roofing specialists, we know how to make copper into all types and styles of roofing products. Instead of being limited to one or two stock profiles, we offer the widest selection of anyone, anywhere. Tiles, shingles and shakes, diamonds and custom shapes are all styles available in copper, but you wouldn't know that if your only source of such material is a vendor who only re-sells the products of one or two manufacturers. Reading their brochures doesn't make for an expert, so don't expect that they will know the little details that make for a proper copper roof project. You'll spend a lot of money on copper, so make sure you only deal with someone who has "been there before."
THINK BEYOND THE STANDARD
Sometimes, an "off the shelf" version of a copper roof might not be the best for you and your situation. Business like this onek design and manufacture standard profiles and systems, but also make customizations of all of our products to suit the unique requirements of our clients. You should expect that for the price of a copper roof that your supplier is ready, willing and able to make whatever modifications it will take to ensure the best possible version for you.
MAINTAIN PERSPECTIVE
Just as as important as offering a variety of customizable options of your copper roof system, the source you choose should know when a copper roof is NOT appropriate. Even though copper is about the best roofing options in history, there are still circumstances where copper - or certain versions of copper roofing - just should not be used. Knowing the properties of copper and those of its various roofing versions means a supplier won't select copper for your roof project only to find out later it wasn't the best choice for your application!
THE BOTTOM LINE
Copper roofing prices are not low, so making sure that you aren't making a bad investment means talking with a supplier who knows the product well from years of experience. Look around online, ask for references, read reviews and find someone who knows exactly what he's doing. And for more on copper roofing, download our FREE copper roofing fact sheet or contact us for a free, current copper price sheet today.