Metal roofing is more popular than ever, and even with the price being higher than "regular" composition shingles, the popularity continues to grow. What's more, metal roofs come in more styles and types than any other type of roof material, and they can complement almost any architectural theme.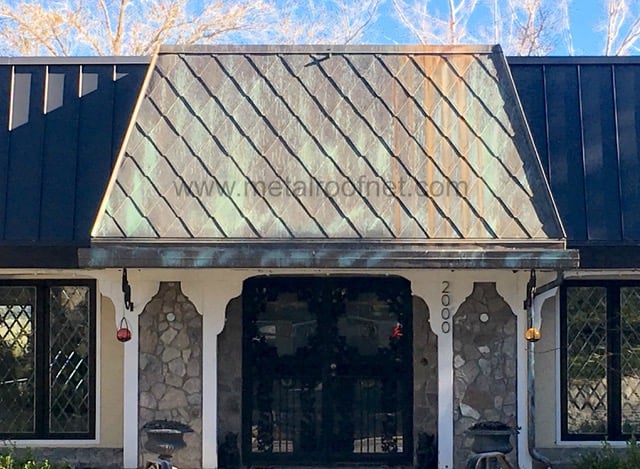 This photo is of the entry to a residence in Reno, Nevada. It shows off a striking contrast between a metal standing seam roof in finished steel and our H-18 Diamond roof tiles in solid copper. Even though both are metal roofs by definition and substance, they could hardly look any more different. The standing seam on the perimeter mansard is finished in a low-gloss black to look as formal and neutral as possible, setting off not only the copper feature over the front door, but also the stone work on the front of the residence.
Extremely common for literally centuries, standing seam metal roofs are as sophisticated and durable as ever and this job, already more than 10 years old, looks nearly new and will certainly last for generations to come. The copper roof diamonds are a classic interpretation of metal roofing and create a sophisticated, old-world feel to this entry. Showing their age (with the help of some added patina chemical!), these copper diamonds will only get better with age and will last even longer than the steel mansard roof that frames them.
Both of these roofs share the same tremendous wind-resistance and durability, and another major trait of metal roofing: They are both much, much lighter than they appear. Most people are surprised to learn than a typical metal roof installation actually weights half - or less - that of a "normal" asphalt shingle roof and a small fraction of concrete or clay.
It might be that metal roofs are the perfect roof for a place like Reno, Nevada!