We are asked repeatedly if our metal roof products are suitable for wall cladding, and in the vast majority of cases the answer is yes! Here's an exciting recent project that uses our MRN H-25 diamonds for interior and exterior applications.
An Innovative Application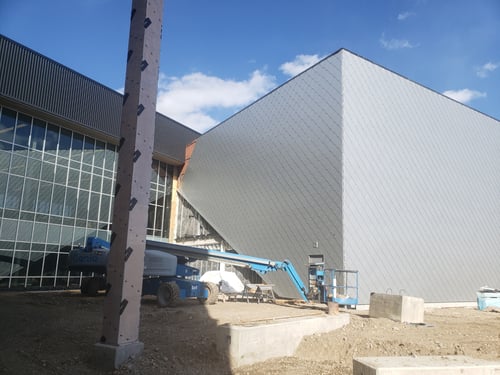 These photos show a job in progress where the client had wanted a very modern, bright, but durable surface for their building and chose the look of our H-25 diamonds. Site conditions required by this application required that we make some subtle modifications to the pattern to make it more suitable for a vertical wall, and we also produced this job in very stout 22GA steel to give it more durability down near the ground. As a very interesting detail on this project, the architect has our diamonds both interior and exterior on the same wall. Quite a novel application!
Finished Steel that Mimics Zinc
In addition, we produced these in a color that mimics natural zinc, but in one of our finished steel coatings. Making these from steel reduced some of the cache' but it make the product more robust and the finish has a 35 year warranty should will mean it will keep its beautiful bright shimmer for many decades.
We're hoping to have more photos of the completed structure late in the summer, but for now this metallic silver diamond pattern wall cladding is certainly eye-catching and unusual.
If you're considering metal roofing for a traditional roof application, or something less common like wall cladding, Metal Roof Network is here to help.
Contact us today.