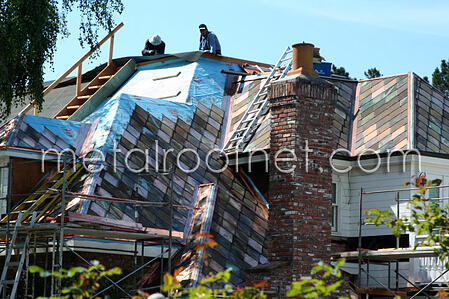 We wrote recently about our mixed metal shingles - our S-10 diamond shingles offered in sophisticated color blends - and received some very positive feedback. Jane wrote:
"I had no idea that these existed! What a great idea and product. How do they compare to the natural and synthetic slate price wise, etc?"
Well Jane, we're very pleased you like the look of our color-blend metal roofing diamonds. They're a custom-manufactured product and we took the inspiration of the many, random, multi-colored roofs that are becoming more and more popular (like our own pre-aged copper shingles in the progress photo above). We have a nearly infinite number of color combination choices, and we can make high-contrast mixes or very subtle variations of color depending on our client's tastes.

Prices vary with the metal, profile and finish, but are likely in the $4.50 - $6.00 a square foot range for one of our steel or aluminum options. It depends which version of natural and synthetic slate you're comparing, but the price is generally a little higher than some and less than others. The big advantage of our metal roof diamonds is light weight and superior weather resistance - in addition to dramatically lower maintenance than traditional slate.
If you're close to purchasing a new roof and would like us to help you specify and source a roof as interesting as one of our multi-toned diamond patterns, let us help you narrow down the many options.