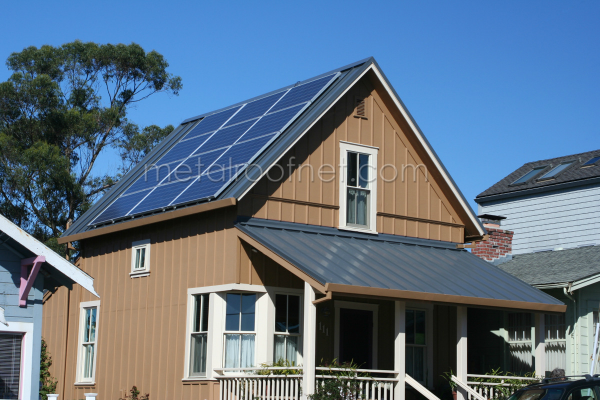 Hardly a week goes by where we don't get asked about metal roofing and solar installations.
Most people already know that metal roofs make the most practical roof material for solar panel installations because they are the ONLY roofing system that allows solar panels mounting on the outside of the roof, with NO penetrations to the roof that could potential cause leaks.
What a lot of people don't know is that a metal panel roof system can help offset its own price by increasing the output of solar panels mounted above. Every profile we sell at Metal Roof Network is available in Energy Star and Cool Roof finishes. All of these types of finishes achieve these designations because they are very reflective of sunlight. These finishes all display varying degrees of reflectivity (the measurements qualifying coatings are published for every color) and the more reflective they are, the more sunlight they bounce around. Since solar panels absorb sunlight to convert to useful energy, the more sunlight reflected around their immediate area, the more light there is to absorb. Simple physics, but very beneficial when sunlight is the fuel being converted!
So, not only are metal roofs worth the cost of installation with a solar panel system because they are a practical and secure place to mount an array, they also contribute to the efficiency of the array by keeping lots of light bouncing around in the vicinity. It's a win/win.
Interested in learning more? Get a free estimate now.