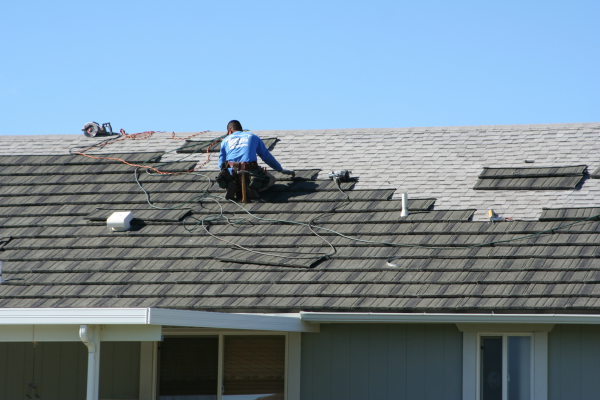 The roof is rarely the first thing that springs to mind for many people when they think about their home - unless there's a problem with it. Whether it's bits of the roof scattered about the lawn after a windy night, or the sudden realization that there are discolorations on the ceiling, or water actually dripping into the house, the realization that the roof is no longer doing its job is unpleasant at best. Unfortunately, by the time people realize there's a problem with their roof, it's likely become a very big problem indeed. But here's the good news. You can avoid neglecting the roof to the point that it becomes a big, expensive problem in one easy way.
IF...
you suspect for any reason that your roof is showing signs of missing, loose or damaged pieces
you can see new, unexpected spots of brown or black on any part of the ceiling inside
you find water leaking through the ceiling or wall
your neighbors with roofs of similiar types and ages are having theirs repaired or replaced
THEN... you should pay a professional roofer - one with at least ten years of experience in your area - to climb up on the roof and give you his opinion of its condition. It will likely cost you $50 to $100, possibly a bit more, but it's better to pay than to get a "free evaluation." Why? You'll likely cut down on some of the self-interest a roofer may have when he gives you his report if you're already paying him for his time.
If this review indicates your roof is still in good shape, that's wonderful news. If it suggests otherwise, ask for pictures of the areas of your roof that seem to be an issue. That's the best way to decide if you have both the time and money to repair or replace the roof before you begin finding pieces on the lawn or water dripping into the house.
Remember, a quality metal roof system is a permanent roof solution. If you're sick of the lifecycle of disposable roofs, and you never want to deal with replacing a roof again, see why a metal roof can solve this issue with our free download.