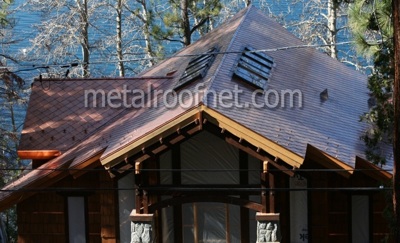 It's entirely possible that the very first question we hear in relation to our beautiful copper roofing (like the gorgeous copper diamond shingles at Lake Tahoe, above) is how much it costs, particularly in comparison to other materials. And it's easy to understand why. After all, it takes just a quick look through the pictures of the lovely copper roofing projects in our galleries to see how beautiful and distinct these roofs are, so it's hard not to ask the price - just to see. So how much do copper roofs cost?
Unfortunately, copper roofs aren't for everyone, as they typically cost two to three times as much as "typical" metal roofing systems. Copper roofing material usually starts at about $8 or $9 a square foot and can go up to about $15 a square foot for heavier and/or pre-patinated roofing options.
Labor to install a copper roof typically runs higher than regular metal roofing as well. Usually, details and accessories that accompany a metal roof installation are of the highest order and expectations of the installer are equally high, so they tend to take more time to get them right.
While copper roofs are not the most expensive metal roof available, they certainly rank in the higher echelon. But there's far more to a copper roof than mere beauty. On top of the fact that copper is a very green roof material (made of a significant amount of recycled material and fully recyclable when the house beneath them needs replacing!), there's a reason they've been the roof of choice for fine homes and buildings for centuries:
they last for many generations
they don't burn
they're lightweight
they are among the most beautiful and distinctive roofing choices in the world
The thing to remember about copper roofs? While they are certainly not cheap, they do offer tremendous value.
Interested in learning more about our copper roofing? We're proud to supply solid copper in tiles, shakes & shingles, panels and diamond shingles, and we offer patina accelerating packages too. Call or click today - we're also pleased to chat about our favorite roofing material!