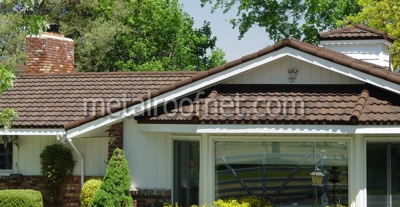 We may not be from North Carolina, but any story comparing asphalt shingles to metal roofing still gets our attention. Check out this NBC story covering one of the average homeowner's biggest questions - it's time for a new roof, so what's it going to be? Stick with what you know or upgrade to something better?
The story correctly notes that "asphalt is usually the go-to choice when it comes to choosing a new roof for your home. However, times have changed and more companies are specializing in metal roofs." The reporter shares her surprise at the appearance of the metal roof, a steel shake that mimics the look of real cedar. The rest of the story runs through the pros and cons of upgrading from shingles to metal. They've got the basics, but allow us to paint a complete picture for you:
Pros of Upgrading to Metal Roofing:
1. Longevity
Most modern metal roofs can be expected to last up to a minimum of 50 years with little to no maintenance.
2. Performance and Durability
Metal is the stiffest, hardest, most durable roofing material you can buy, which makes it impervious to extremes of weather like high winds. Unlike every other roofing material, a properly installed metal roof will stay on in high winds indefinitely. That's because they're mechanically fastened to the deck or the structure, while other roofs rely on their weight or adhesives, which are certainly inferior systems in extreme winds.
3. Aesthetics
With more styles, colors and designs than any other roofing material, there's sure to a metal roof to complement and enhance any architectural style. Metal roofs come in more than just panels - have a look at our photo gallery and see.
4. Energy Savings and Green Factor
Recycled and recyclable, many metal roofs qualify for federal tax rebates. Plus, it's infinitely more energy efficient than asphalt shingles, which absorb heat. Metal roofs with certified Energy Star finishes can reduce cooling costs significantly.
5. Increased Resale Value
A quality metal roof system is a selling feature for any home, and homeowner can also save on home insurance costs thanks to their durabliity and performance.
Pros of Sticking with Shingles
1. Price
It's true - metal roofs cost more than asphalt shingles. So if price is your sole consideration, stick with shingles. But if quality, looks, performance and eco-friendliness matter, if you're planning on staying in your home, if you want to re-roof for the last time, you just can't beat metal. Check out this NBC story, download our free booklet, compare metal to shingles with our free comparison sheet, do your homework, get a free estimate and see for yourself!
Thanks to metalroofpanel on twitter for the link!