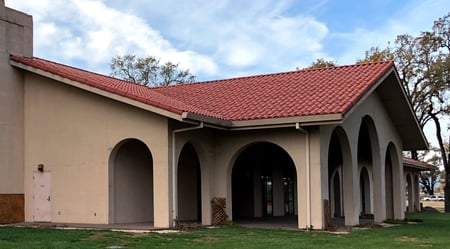 We have a new project on the West Coast, and we can't wait to get started! We're keeping details under wraps for now, but we can tell you a bit about the existing roof and the decision to upgrade to a metal roof system.
Synthetic Clay Tile Roofing
While from the ground this clay tile roof looks like a typical "Spanish Tile" roof in decent condition, that's not the case. This roof is only about 20 years old, and it had already begun leaking badly in multiple places. The "lightweight " tile was chosen because it resembled heavy clay tiles. Since the building was not engineered for the weight of clay, the owner choose these synthetic clay tiles instead.
That would prove problematic.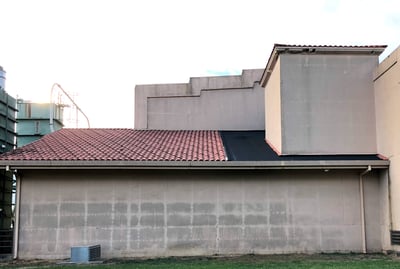 Like all clay, concrete, and similar tiles, these synthetic clay tiles rely on the underlayment (in this case, the usual felt paper) as the primary waterproofer. When these lightweight tiles started to move and crack (due to wind, foot traffic, building movement, etc.), the underlayment was overwhelmed and leaks developed and got worse.
Upgrading to Metal Tiles
The owner was understandably frustrated and ready for a solution. His architect recommended metal tiles for a similar aesthetic but unrivaled performance. After spending some time online, we're happy to say he found Metal Roof Network. Now these synthetic tiles are in the process of being replaced with one of our metal tile systems. This time, the owner will enjoy a roof that performs as well as it looks - for decades. Stay tuned for pictures of the completed project - we can't wait!