We recently received another request for copper roofing for someone's backyard barbecue pit roof, somewhere in the range of about 90 square feet. They wrote the same day as someone who was re-roofing a 120-year-old mansion and wanted to source 7000 square feet of copper roofing that looked like the original. It illustrates the trouble with small metal roofing projects in 2020.
Stretched Thin
Both inquiries were looking for a referral to a local roofer who could quote and install the new copper. And both were reporting difficulty in finding a qualified roof contractor to work with, even though they were in very spread out parts of the country. Can you guess which project generated interest from roof contractors?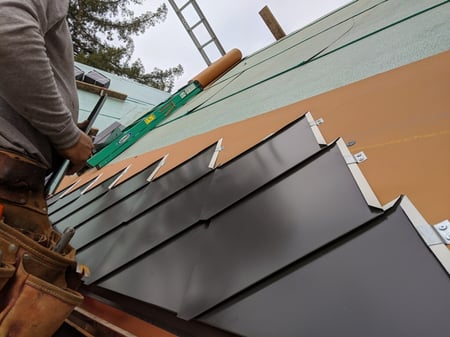 One of the problems with a shortage of quality tradespeople is that those who are good at what they do have nearly unlimited opportunity to pick and chose the projects that will maximize the return on their time.
It's nearly impossible to charge enough to make the planning, preparation, logistics, problem solving, installation, and service for a small job worthwhile to all involved.
It takes nearly as much time to fulfill an order for a bay window roof as it does an entire house that might have an area 100 times bigger. How do you get the attention of a production department or a roofing contractor for a job that is so small they'd have to charge many times their normal "rate" just to make it worthwhile to push the big, profitable jobs to the side?
As I know from experience, your job is the important one - and you want what you want. But it's important to understand that a manufacturer and distributor like us doesn't necessarily have the manpower to accommodate the "craft" size of project. It's a good problem to have, and it's not likely to last, but even in the year of the lockdown, construction hasn't slowed much and as of now all the the good producers and mechanics are about as busy as they want to be.
The DIY Workaround
DIY installations have a better chance or getting attention, but here's a secret. Those folks may be better off just walking into the local sheet metal shop with a set of drawings for the small amount of material that a bay window, patio cover, or entryway cover would require.
I'm sharing this in the hopes of helping - not offending - the few of you who really want a "copper accent" on the dormer over the front bedroom window. Unless your plan is to have that done with the rest of the roof on the entire house, be prepared to have to make a lot of noise in order to motivate most roofing industry players to make room in their schedule.