Our diamond shaped roofing tiles and shingles, especially in copper, make up a big part of our business. It truly is our specialty. While people are drawn to this distinctive profile because of its incredible appearance, it's not simply aesthetics that makes the diamond profile such a great choice. Here are the benefits of diamond shaped metal roofing.
4 Benefits of Diamond Shaped Metal Roofing
Options - Our diamond profile is available in several different metals, including steel, zinc, and copper. That means they're available in more colors and finishes than any other roofing material you can name.
Durable and Long Lasting - In addition to the look of the diamond profile itself, our metal diamonds are durable and long-lasting, particularly in high-wind areas. In areas that get a lot of snow and ice, the shape of the diamonds make them one of the least likely to be damaged when a roof sheds snow in the winter.
Lightweight - One of the biggest benefits of metal roofing in general is its extreme light weight. That makes it particularly suited to earthquake-prone regions.
Simple Installation Process - While a roof made of intricate diamonds may look complicated, the installation process is the same basic "Sheet Metal 101" technique required by any metal roof system. That simplicity makes it easier to find a qualified installer.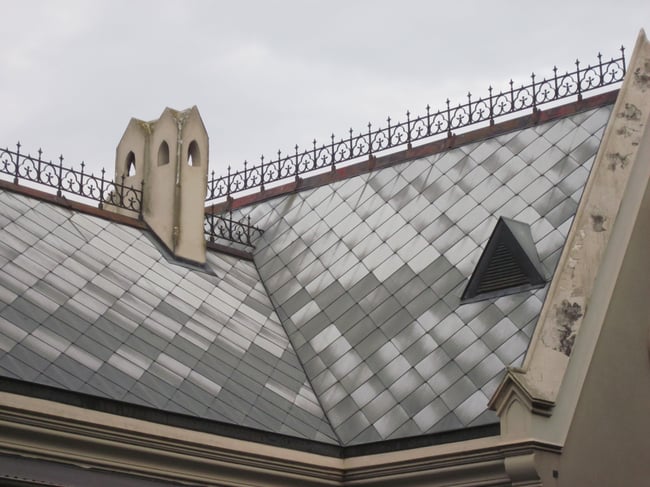 This photo is of a roof that began my appreciation of diamonds as a metal roof profile. I took it on a trip to Argentina more than a decade ago, and it was one of a number of buildings and residences that featured this very beautiful, practical, and special metal roof shape. I noticed that it even aged beautifully! The drip line that falls off the tip of each diamond accentuates the shape and makes for a graceful and timeless appearance. Like all classic building materials, diamond roof tiles just look better and better as time creates its art.
We've been fortunate to supply metal diamond shaped roofing for a number of projects over the years. If you're considering a diamond roof for your next project, we'd love to be involved. Contact us today.