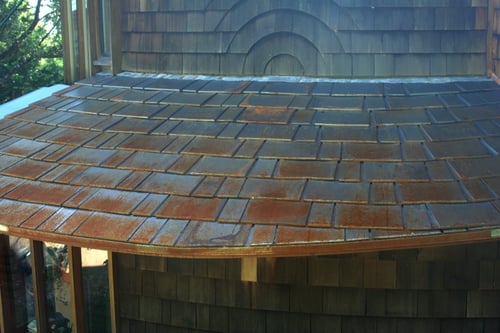 While they are certainly not for everyone, and only truly suitable for roofs in dry climates like the Southwest US, our metal roof products in natural steel are always show-stoppers. I was speaking to an architect recently who's doing a project in Arizona and wanted something distinctive for his client's custom home in the desert. I talked to him about the many options for profiles in rusty steel, and he wanted something that was distinctive and unusual, so I showed him our unique random steel shakes in natural steel.
This close-up image shows how random this profile truly is as the installer can literally modify the pattern on site, and even offset the front edges to provide additional irregularity and further emulate natural wood shakes. And all without the possibility of lighting on fire or blowing off in the wind!
I took this photo before the rusty patina had completely developed on the Corten Steel we used to make the shakes, so it shows a nice progression. Even though this is not a cheap pattern to make, and it's slow to install (compared to "production roofs"), it's still one of our all time favorite
natural steel
projects!