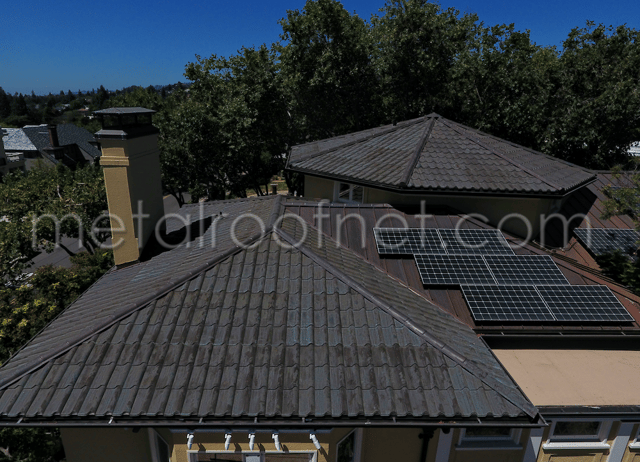 If this isn't my favorite job of all time, it's certainly one of the finalists. The owner needed to replace a tile roof that had multiple issues and wanted to upgrade the roof at the same time. He and his architect decided that a copper roof would be a suitable solution, but they wanted to keep a tile profile, and so they decided to use our MRN CF Tile in solid copper. They not only wanted the very unique appearance of our copper tiles, but its concealed fastener feature made it a perfect solution. However, there were other issues that needed solving:
The neighborhood wasn't thrilled about a bright, shiny new metallic roof.
The owner wanted to offset his electrical usage in a major way with a solar electric panel array.
Metal Roof Network worked with the architect and the owner to solve both problems. We recommended that the owner purchase our copper roof tile with a pre-aging option. This artificially accelerated the natural patina that develops on all exposed copper roofs (eventually), and gave the newly-installed roof that aged look right away. The pictures attached are of this copper roof tile about one year after the initial installation. No one would guess that the roof was only a year old - it looks more like it was 50.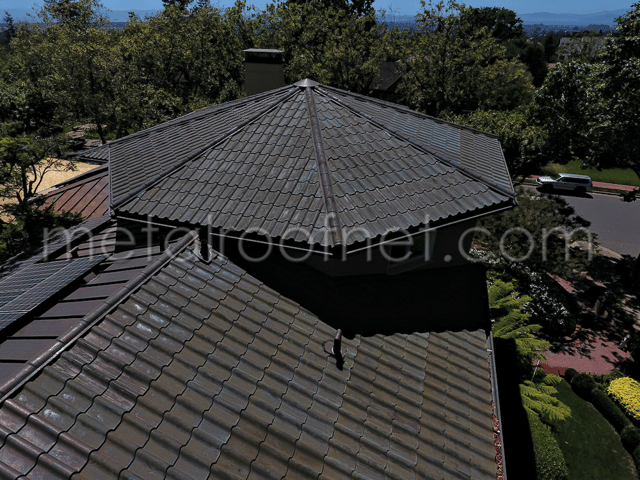 We had a lot of discussion to solve the problem posed by needing solar panels along with a new, copper roof. While it was possible to execute, installing solar panels on our copper tiles would be a real challenge to any installer. Mounting the panels on such a profile make waterproofing the mounting points rather difficult, and walking all over the tiles during the work give the solar contractor a lot of complexity to his process. Since it became obvious that the location and solar array would be mostly out of sight anyway, we proposed one of our standing seam copper roof systems just for the sections of the roof that would host the solar panels. Since the standing seam panels allow the solar panels to be attached with literally no penetrations in the roof, and the standing seam is so much friendlier to foot traffic while the solar job was in process, we solved all of the problems at once.
It's a beautiful, stately, permanent, environmentally friendly copper roof system. We're thrilled to have been part of iit!