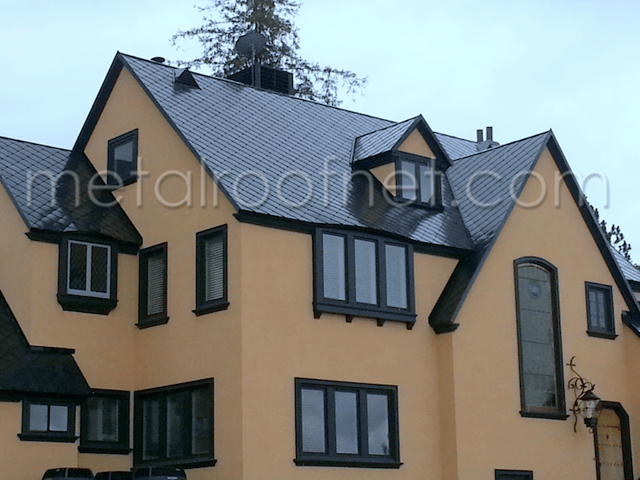 For years, metal roofs were a rather predictable architectural feature. They were usually either steel painted in a solid color (red, blue, brown, and green being the most common for many, many years), or they were a bare metal like copper, aluminum, galvanized, or solid zinc. It's nearly impossible to speak to someone about a metal roof without them imagining a standing seam, vertical rib roof in one of these colors. However, the state of the art now is that these old standby options are becoming the least common metal roofing systems.

Metal roofs are now available - and common - in all kinds of different shapes and configurations. From profiles that resemble shake and shingles, to multiple tile roof patterns and even diamonds and custom profiles, metal roofing offers building designers and owners more choices of appearance than any other material available. In addition, almost every one of these diverse patterns and profiles can be finished with literally hundreds of color choices. As if that isn't enough variety, metal roof finishes now come in not only every imaginable solid color, but also multi tone and variegated color finishes as well.


When pricing a metal roof, keep in mind that all of these new irregular finishes are considered premium colors, and so they will cost you more than the old, monochromatic traditional colors. However, the difference between a solid color metal shingle and a variegated one in the same profile and type of metal is often maybe a 20-25% premium. If the particular diamond you like in a solid bronze color is $3.50 a square foot, the two-tone variant might only add another $0.50-100 to the price. And for that you get a unique and long-lasting roof in a unique and special color.

Whatever you can imagine for a roof, metal is the material most likely to complete your vision.

Have a project? Get a free quote now.