We recently had a call from a customer we first more than met nine years ago. The family was adding on to their building and wanted to match the natural steel S-10 roof diamonds we made for them close to ten years ago. Needless to say, we were happy to not only provide more matching steel diamonds, but also photograph a steel roof with nearly ten years of patina. The photos here show that our roof diamonds are performing exactly as expected and providing their high desert residence with the rustic, Western charm that only a metal roof with a developed patina can offer.
natural steel diamonds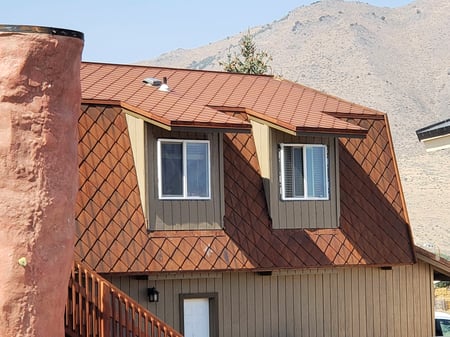 Proving that our metal roof diamonds, and in fact most metal roofs, are DIY friendly, the owners installed this beautiful, permanent roof themselves. They will tell you that they had to be familiar with basic sheet metal techniques, and it was a challenge to organize their layout to keep the rows nice and straight and work around their dormers, but these inexperienced roofers were quite capable of installing their own roof and the proof is in the pudding. It's a very nice job. The experience was rewarding enough that they are doing it again and saving a lot of money in the process, especially with the shortage of qualified roofers and the high rates the good ones command.
MRN S-10 Diamonds
The S-10 is our smallest diamond, and is best suited to smaller roof planes or roof segments with multiple interruptions, like this house with its gambrel roof. Ten years into its life span, these heavy roofing diamonds are clearly suited to this dry climate and are showing every indication of having decades and decades of protection and beauty yet to offer. Highly resistant to high winds, sun, snow, and all the usual environmental attacks roofs must endure, the MRN S-10 diamonds in natural steel proved to be a great choice for this homeowner - enough that they're going back for round two!
If you have a similar project or you'd like to learn more about metal roofing, contact us today.