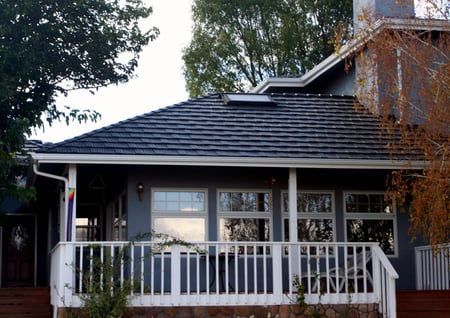 We get many comments on our blog that we don't always publish, but we always try to contact folks directly to offer feedback. When it's a topic that will benefit others, we like to share. And that's what we're doing here. Recently, a blog subscriber left a comment regarding siding that had literally melted in the hot Indiana summer last year, and the homeowner wondered whether the reflection off the shiny galvanized roof wasn't helping. The question to which he needed an answer was, effectively, would painting the galvanized roof black make sense in this situation, or just compound the problem?
Here's what we shared.
absorbing vs Reflecting
There are a number of variables in a useful answer, but for a quick response: Paint the roof a low-gloss or "matte" color (to disperse the reflection), and make sure the wall above is covered with a high-quality and glossy color (to reflect light). A good paint supplier (not usually in big box stores, by the way) who specializes in commercial paint supply should be able to direct you toward both types.
While it's true that a low-gloss, dull paint on the metal roof may absorb a little more heat that a lighter color, it shouldn't make the least bit of difference to the comfort of an open porch below. The wall above that porch roof is certainly getting more than 100% of the normal sun exposure, but if it's melting, then it's probably not a high-grade material. It's sounding like it's some sort of vinyl siding, and I would talk to the manufacturer and see if they have any feedback on their product. If that's not an option, and dull paint on the metal roof doesn't mitigate the issue, you may have to upgrade the siding on that section of the house to something you can paint with a heat-resistant and reflective finish.
Question about metal roofing?
Contact
Metal Roof Network today!