We were contacted recently by someone looking at our natural steel shakes. She wanted to know whether our rustic natural steel qualified as a weathering steel, and whether we had guide specification or technical data sheets available for weathering steel shake. Here's our reply.
Regarding Standard Spec Sheets
We do not have standard spec sheets for our natural steel products. It's such a niche market that we just make all of our bare steel products as custom-manufactured designs to suit our client's imagination and theme. If you've seen a particular profile in natural steel that you like here on our website, let me know and I can tell you the story behind the photo. If you have something else in mind, send a photo and we'll see how close a replicate we can create.
Completely Custom
As to whether we use a version of "Corten" or regular cold-rolled steel, that's also up to the customer and the specifics of the application. We can make some of our profiles only in 24 gauge steel, so one of the Corten alloys isn't an option for those, and so they're only appropriate in very dry climates when corrosion rates are low. Making our shake in a Corten steel means we can use only a 22 gauge or heavier and so that limits the profile options.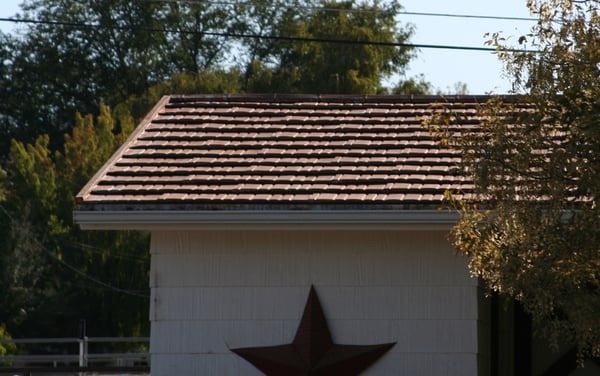 This photo is of our stamped shake and this one is in 24 gauge cold-rolled installed in Nevada. The photo below is on a West Coast custom home within a few hundred yards of the ocean, so the added corrosion resistance of an A-606 22 gauge steel was warranted, and this profile lends itself to fabrication in the thicker steel.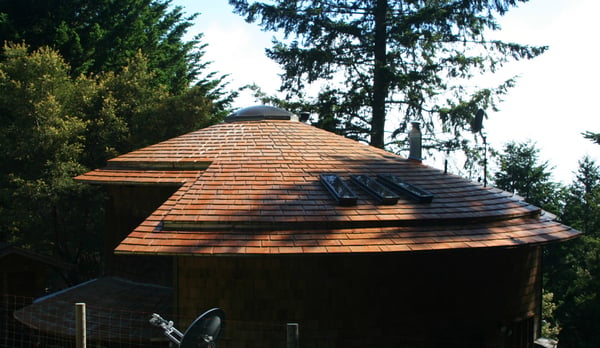 This should provide a little background into our rusty roof products, and regardless of which one you choose, they will all patina to that very distinctive red/brown deep rust color.