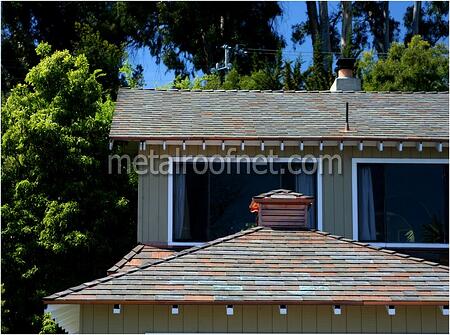 Because copper roofing is our specialty, we field a lot of questions about this beautiful material. Many of those relate to the distinctive patina that develops on a copper roof after it's been exposed to the elements. If you're wondering to to boost the patina on a copper roof, read on.
pre-treatment or after installation?
This is a beautiful copper roof system in California made with solid copper shingles. We left some of them untreated, and we hand-treated others to develop a patina prior to installation.
People regularly ask whether our copper roofs have that green, antique appearance, or if it happens naturally after installation.
It really depends. That's because real copper roofing (not steel that's been painted a copper color) looks like a shiny new penny when it's just been formed into roofing profiles. Just like that penny, copper roofing begins to darken as it ages. If the copper roof is exposed to enough moisture, it will develop that striking blue-green. Both the darkening and the gradual and eventual greening are known as the patina or verdigris, and they refer to the oxidation layer on the surface of exposed copper.
While there are pre-patinated copper sheets on the market that can be used to form copper roofing products, they have a major flaw. The effect is a finish that's remarkably regular. And one of the main characteristics of old, exposed copper is its irregularity. That's why a hand-treated approach is the best option if your goal is an aged aesthetic on your brand new copper roof.
Hand-Treated Patina on Copper Roofing
This process involves the application of one of the commercially available solutions designed to rapidly oxidize new copper. It can be done on the ground before the copper pieces are assembled on the roof, or it can be sprayed or brushed onto the completed roof. This is a decision that should be made based on both the configuration and complexity of the roof.
In my experience, carefully spraying the installed roof offers the most natural look, because it creates the natural drip lines of a copper roof that are normally accentuated. Spraying an installed roof maintains that appearance.
Here's an important note when it comes to copper roofing, particularly one that has been treated to develop a patina layer: it's a live finish, and it's going to continue changing. In some cases, the new patina layer doesn't as adhere as well as one that develops over time, and it can be loosened by rain or snow. Still, once the loosest layers have been eroded, the roof will continue oxidizing into a look that is virtually indistinguishable from an old copper roof.
If you'd like to learn more about copper roofing, we'd love to answer your questions. Contact us today, and let's discuss copper roofing!