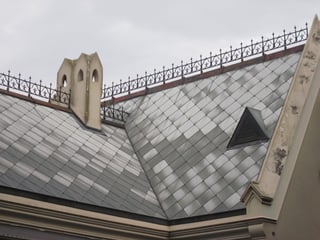 We've made our diamond shaped metal roof products our signature line and we offer diamond shaped products in more types of metals than anyone else in the business. In fact, this photo is shows one of the buildings I saw when traveling in South America a few years ago - it was one of my major inspirations to launch a diamond shaped profile of my own (if you would like a copy of this style for your own job, don't hesitate to ask!).
One of the things I really like about the diamond profile is that even on very old buildings, you'll notice this shape of roof tile collects very little debris. Because the diamond profile comes to a point at the bottom, it's very, very hard branches and leaves that fall of trees to find a place to cling. When I see installations of the diamond-shaped metal on jobs that are even decades old, I'm always struck by the fact that they just always look so clean.
Keeping a roof clean of wind-blown stuff is always an important maintenance concern.
Because accumulations of dying vegetable matter traps moisture and can cause or accelerate deterioration of many types of roof systems, any roof that helps reduce such an occurrence can only be a good thing!
Not only does a shingle profile look incredible, it performs even better.
If you have a roofing project in the works, we can help. Contact us now.