At Metal Roof Network, we specialize in copper as a material and diamond shaped shingles as a profile. It's what has set us apart from other roofing companies, and we're fortunate to have worked on a number of exciting and interesting projects that combine our two specialties. Often, we're asked for details about our diamond shingles. It can be difficult to accurately describe some of the attributes of this distinctive profile to people who aren't already familiar with metal roofing systems, and we tend to default to sharing the features alone. If you're interested in developing a better understanding of the assembly of diamond shaped roof shingles, this post is for you.
Diamond Shaped Roofing Shingle Assembly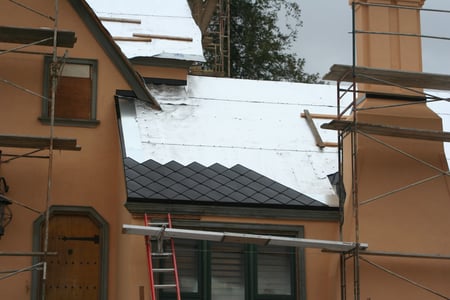 Photos can illustrate far better than words, so here's a good example. Our diamonds are manufactured in copper, zinc, steel, aluminum, or porcelain, and regardless of material, they're all very similar in application. Because they interlock on all four sides, our diamond shingles have a number of benefits:
They're extremely durable
All fasteners are concealed
They're designed to ensure that snow, water, and debris slide off without the damage than can affect other roof styles
It's truly one of the best metal roof profiles you can choose for any type of roof. If it might work for your architectural style, it will function beautifully in all weather conditions for generations to come. Contact us today to learn more about this distinctive profile and its versatile applications.