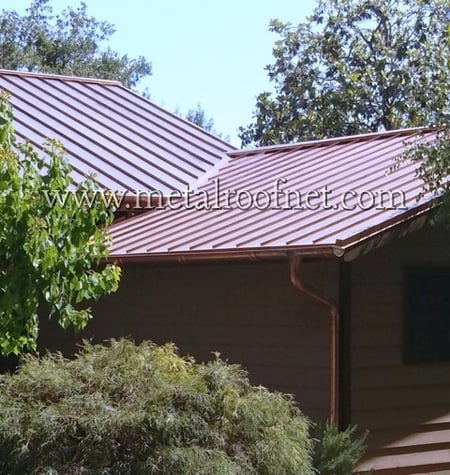 This client was doing an extensive remodel of a mid-century Napa ranch house and wanted a roof system that would be architecturally consistent but also beautiful and permanent.
He heard about us from one of the largest commercial roof contractors in Northern California and asked us to design a copper roof system that would fit his needs and his budget. He wanted a standing seam roof and a copper gutter system as well.
Besides the fact that the project was a great success, two interesting things about this project: It's completely surrounded by tress, making it nearly impossible to photograph (I hate that!), and the big Napa earthquake struck during the project!
Good thing he chose our copper roof system, because in addition to being a lovely crown to any residence, it's also surprisingly lightweight. The big shaker that hit did a very small amount of damage to the incomplete project, and I have to wonder if the light copper roof helped minimize any potential damage. Regardless, the copper roof and gutters will certainly last for another 100 years on this job, and I can't wait to try taking some more photos when it begins to patina noticeably in a year or two.