Since the legislative reaction to another virus has been to restrict everyone's mobility, the opportunity we have enjoyed in the past of traveling to our customer's job sites has been rather significantly curtailed this year. Now we face the challenge of seeing our metal roof products installed even more rarely than in past years. Fortunately, our customers are all too willing to share photos, like this one of our copper roofing topping a lakeside gingerbread home.
Copper Roofing for a Fairytale Home
The customer chose our H-18 diamond roof
shingles
in solid copper.
He wanted something exceptional for his gingerbread lakeside house,
and after "a lot of time on the internet" found us and our copper roof diamonds. Since the characteristics he was after often included the terms, "quaint," "rustic," and "different," our diamonds fit the bill.
Making them even more appropriate for his cabin with hand-sawn siding and curbed and irregular features was the fact that our copper diamonds could be randomized with a custom pre-patina application
. The owner, being construction savvy and having a hobbyist inclination, wanted to do his own application of the patina solution. We helped him source the solution from the manufacturer and then offered our best advice based on our many years of doing similar projects.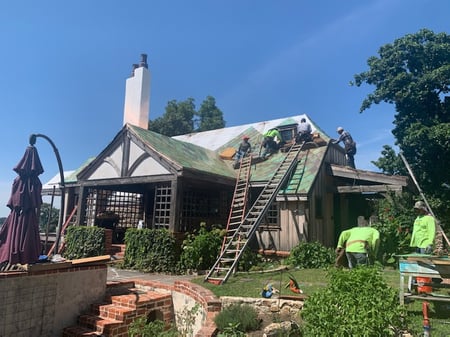 You can see the result - a randomized "old copper" diamond roof on a fairytale building.
It looks like it's been there for decades already, and will only get better as it ages.
If you have a project and you're considering copper roofing,
contact us
today. Copper is our specialty!