Our copper roof systems can be surpisingly multi-functional. In fact, they can be just as handsome, unusual and weather-tight as wall cladding as they are on the roof. More and more clients are asking about using our interesting metal roof systems for both exterior and interior walls, and the fact is they are perfectly suited to such a use.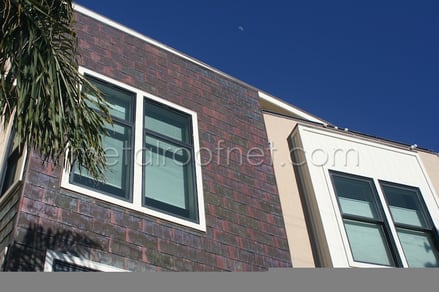 This client was upgrading a residence in San Francisco and wanted something distinctive and unusual. They chose our solid copper MRN Low Profile shingles to clad a large section of the new front elevation.
We had the shingles pre-aged with a random application of one of our patina solutions to emphasize the "brick wall" effect and it turned out most successful. The contrast against the monochromatic wood siding accentuated the classic appeal of old copper, and the shingle pattern gave the feel of a brick wall at a tiny fraction of the weight. Contact us if you'd like more photos or information about this project or our copper roof (and wall!) shingles.