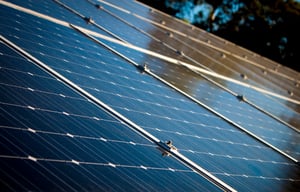 We're getting more and more inquiries about the feasibility of solar panels on a copper roof. The answer is yes, it can be done. But our recommendation for those who considering copper diamonds, tiles, or shingles is to combine profiles so that the solar panels are mounted to panels. Here's why.

Tile and shake profiles simply aren't intended for repetitive foot traffic. While they can be walked on without significant damage - and indeed, the installer has to walk on them during installation - too much foot traffic could result in denting.
The traffic that comes with the installation and maintenance of a solar roof system could compromise the aesthetic of any metal roof, though its performance would likely not be affected.
Combining Profiles
The best possible solution, then, is to combine profiles. A standing seam system on the portion of the roof that will hold the solar panel array is an excellent choice, because these roofing systems can accept solar panels without the need for holes cut into the roof. Plus, they're the least compromised by foot traffic. Truly, they solve both architectural and practical complications.
The combination of standing seam for the solar portion of the roof with tiles, shingles, shakes, or diamonds for the rest of the roof is both striking and functional. For more information and how this might work on your project, contact us today.