We are often asked if our metal roofing products are "easy to install," and if a homeowner could do it themselves. It's a good question. And as it happens, this is the second post in a row in which we share photos of completed projects that our customers installed themselves. It's evidence that you can indeed install metal roofing yourself!
DIY Metal RoofING
Many of our metal roofing products are quite friendly to "Do It Yourselfers." Keeping in mind that being up on a roof is always risky - certainly riskier than a lot of home handyman projects - and that anyone considering replacing their own roof should be familiar with all recommended safety cautions and procedures, the actual technical skills required to install a metal roof are identical to those learned by beginning sheet metal worker. Add in basic roofing principles, and you're fully qualified for most average residential roofs.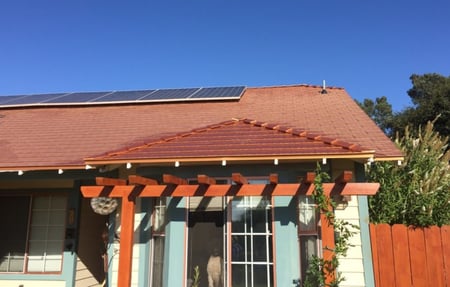 The job pictured here was done by a son for his mother
and they choose our very lightweight aluminum shingle in a bright "Copper Penny Metallic" finish that will look like a new copper penny for many, many years to come.
When asked about the experience, the customer reported that it was even easier than they anticipated and told us they actually enjoyed the process. They were very proud to show off the finished roof, and I don't blame them! I know it's easy for us to say that metal roofs are not a complex undertaking, but hearing this customer feedback just reinforces our prejudice.
We always delight in seeing the pics of our customers' jobs, and it's especially rewarding to hear that even the installation process was an enjoyable endeavor!
If you'd like to learn more about DIY metal roofing,
contact us
today. We're happy to answer your questions and make recommendations.