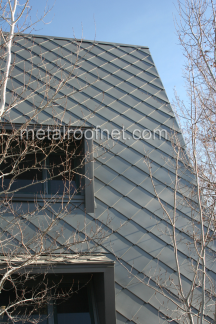 We've mentioned before that one of our favorite profiles is the distinctive diamond shingle. It's a truly beautiful profile in an Old World style that's as versatile application-wise as it is functional and high-performing.
It's a truly amazing new finish that perfectly emulates an old, darkened weather zinc - and it's available at less than half the price of solid zinc!

Even better, you'll get a full warranty on the finish!
If you've been considering a new roof and the diamond shingle is something you'd like to learn more about, call or
click
today! And if you're still sorting through your options (and possibly feeling a bit overwhelmed?), get our FREE re-roofing
booklet
. It's an overview of the most popular roofing materials used today, with installer checklists, diagrams, comparison charts and much more. It's a great place to start any re-roofing journey, and we're happy to help you out along the way!