Here's another in our Q&A series. Have a burning roofing question? Post in the comments and we'll reply with a blog post dedicated to your question!
Q. Are metal roofs available in more than just shades of gray? What are the best colors for metal roofing?
A. Yes. In fact, one of the features of metal roofing that make it superior to most other roofing materials is the fact that it can come in a virtually unlimited number of profiles and color choices. Like painting a house, metal can be finished in any number of colors, including custom colors to match specific palettes. Now, it's true that to have a particular profile in a particular color might be rather expensive if no one has made that combination before or stocks it regularly. Fortunately, there are a number of color choices that are available as "stock" colors that are readily available in most profiles and metals, as well as regularly available "special order" colors that offer more choices. On top of these offerings it is possible to produce just about any profile we have in just about any color a client might desire. And not only custom colors, but even custom levels of gloss or shininess.

Of course, such customization costs more money and there are minimum quantities of material that any manufacturer would want to finish in order to justify the expense, but it's certainly available and not an uncommon request by architects or knowledgeable clients. Depending on the size of the job - large jobs can have a just small premium for such customization - it can be quite a reasonable option. In addition to the wide variety of solid colors, there are now a number of two-tone and variegated colors that can add a lot of interest to a roof. These multi-tone roofs are relatively new and the number of choices in such finishes is expanding daily as more manufacturers discover ways of accomplishing this technique with more and better results.
Here's an example of one of the newer metal shake profiles in a two-tone "Aged Copper" finish by one of the top manufacturers of such materials. This effect give the finished product a much more sophisticated look than is usually possible with any single tone finish.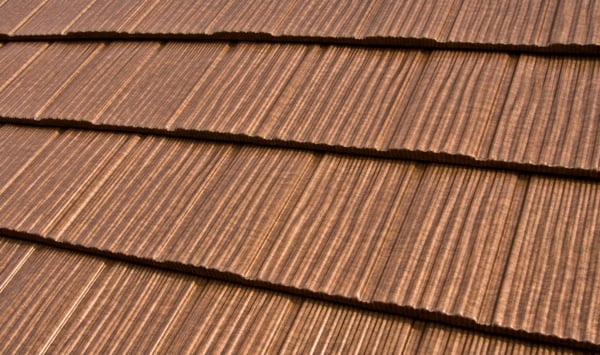 In addition to the wide variety of smooth and textured finishes available on metal roofing, there are natural or "bare" metal roofs from which to choose. Copper, zinc, steel, aluminum and a few other even more exotic metals are all made into roofing and each has a distinctive color that sets it apart.

The last thing to consider when choosing a color is that the lighter colors are more reflective of heat than the darker. This can be tremendously useful when controlling solar heat transfer to a roof deck (and/or attic) is desirable. In fact, a white metal roof in one of the new "Energy Star" reflective coatings is about the coolest possible roof covering available. Such a roof can be 50 or 60 degrees cooler than a dark shingle roof!