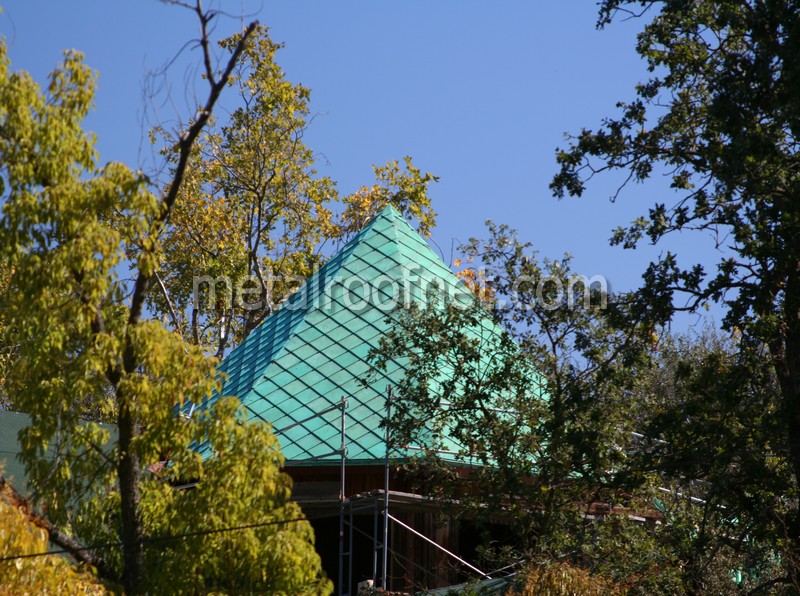 This is a copper roof photo that was taken mid-installation during a very beautiful and unusual project: a copper-roofed turret for a custom home in the San Francisco peninsula area. The client, a retired architect building his "dream home," wanted something spectacular and unusual to finish off his very distinctive new home, and chose our copper diamond roof shingle - wise choice! The shingles were then individually treated with a special solution to mimic decades of exposure so they'd display that special "patina" that is unique to old copper roofs.
As beautiful as our copper diamond shingles are, they're certainly outmatched by their performance. Benefits of copper roofing in any profile include:
A high green factor, thanks to a content of recycled material
Non-combustibility
Unparalleled durability, performance and lifespan (case in point - the centuries-old roofs on churches and cathedrals across Europe)
Extremely high wind warranties
50-year non-prorated material warranty
A wide selection of available profiles include tiles, shingles, shakes, several sizes of diamond shingles and panels
Custom finishes guaranteed, as copper roofs will develop a natural and unique patina over time - or you can achieve this instantly with available treatments prior to installation
The bottom line? For specific features like a turret or an entire roof system, copper roofs are the ultimate statement in elegance and performance. We're proud to offer them.