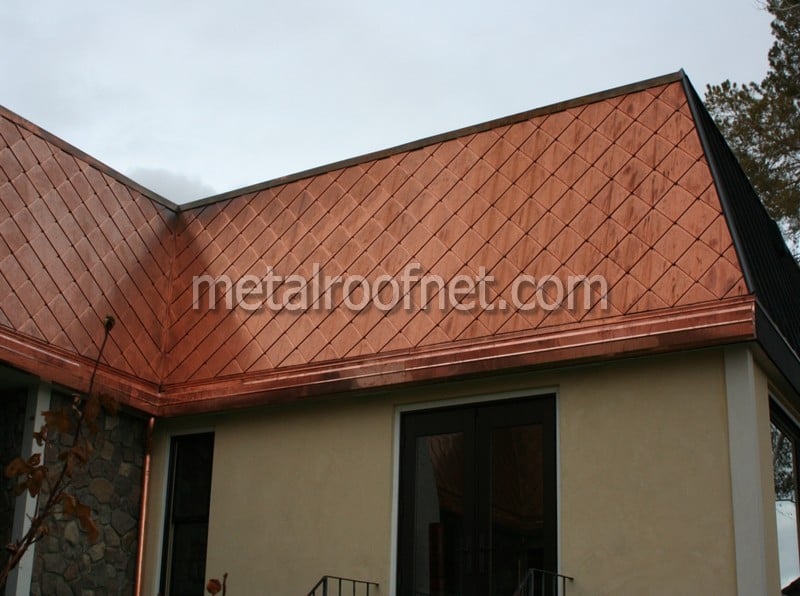 This was a very interesting re-roofing project in which to be involved. The original black-painted wood shingles on this mansard were past their useful lifespan, plus the house was on the edge of a ravine so fire was always a concern. The owners wanted to do something permanent and distinctive with the mansard because it's an extremely prominent architectural element. They chose to have us fabricate new standing seam panels and supply our elegant copper diamond shingle for the mansard over the front door. We also designed and fabricated the custom copper gutter system for the same area.
The steel standing seam roof panels had to be custom color-matched to the pre-fabricated metal roof edge detail of the new flat roof portion of the project. We were able to manufacture an exact color-matching finish for the new steel roof panels with a full 40-year fade warranty - even for the very dark color required by the owner.
To make for a truly unique and impressive statement, the owners selected a copper roof for the section over their entry - and not just any copper roof. Our solid copper diamond shingle were installed in a pattern that echoed the diamond pattern in the beveled glass for the front windows. An unusual roof configuration for the area was made even more special and outstanding with the new copper roof shingles contrasting the dark metal roof panels for the remainder of the mansard.
To finish off the project, we designed a custom gutter system that completely covered the fascia board beneath the copper roof area of the mansard. Using an off-the-shelf gutter system would have made for a rather clumsy-looking assembly, so a custom configuration was decided upon and the result finished off the entire project beautifully.
The result? This distinctive home is now topped with a distinctive metal roof system that will undoubtedly last as long as this home is standing - and provide a beautiful, elegant architectural statement the entire time.