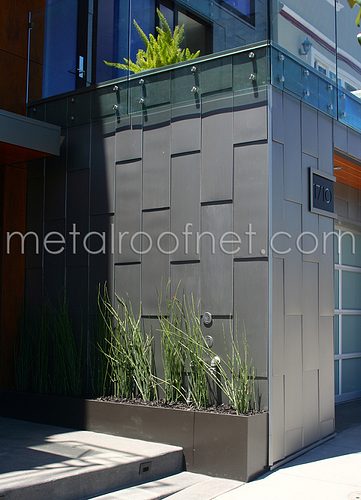 For this very unique project, our clients wanted to incorporate natural metals into their modern San Francisco in-fill home. Their plan called for a very neutral tone in a vertical, geometric pattern that would contrast the highlight woodgrain feature above the entry.
Because of the uniqueness of the architecture, we worked with the architect and builder through three different versions before finalizing this profile. Features of this heavy zinc profile include:
- a three-part design to hide fasteners and create a watertight system
- strong resistance to the high winds common in this hillside location
Using a pre-patina pure zinc roofing system accomplished all the goals for the project, and the result is a beautiful, long-lasting building facade that will require no maintenance.
We're thrilled that this project came together so nicely. Custom projects like this one are of particular interest to MRN, so if you have a unique challenge with your roofing or cladding, we'd love the opportunity to share our perspective and experience. Contact us today!