I recently read an interesting article on the website of a prestigious coastal lifestyle publication called Ocean Home. If it were possible to offer a virtual standing ovation to the author, reading the article had me doing just that! I am constantly shocked at the way so many owners prioritize their exterior architectural elements when building and remodeling - with one major exception. This author knows what so many others only find out in retrospect: The roof is of paramount importance in the appearance of a home, and in addition serves as the primary weather protection surface. That demands quite a list of requirements.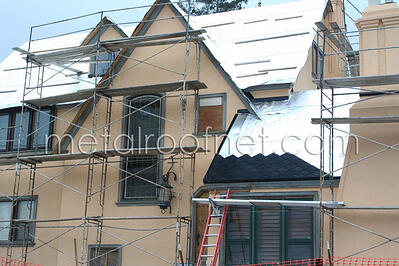 You can't blame most owners for taking the builder's suggestions when it comes to economizing on elements of their new home, and since most buildings start with a foundation and work up, it's quite logical that the roof would be the last place to get attention. Most projects are built to a budget, so when building from the bottom up guess what is the last in line for many budget builders? The roof! If I were a builder instead of a metal roof manufacturer, I would probably put the roof low on the list of priorities, too. I'd want the "showy" stuff (kitchens and bathrooms, entries, flooring, fixtures, etc.) to look great for my client, and if someone isn't worried about the quality of their roof, then I can zero on the other stuff that they'll focus on everyday. Really, it makes perfect sense from a builder's perspective.

Once the budget is set for all of the "must have" features, it's a sad reality that once everyone gets to the roof, there's not much left. So the owner says to the builder, "Give me something that looks good for $X," and the builder says to his favorite roofer, "Give me something for $X-10%," and whatever fits into that number is what becomes the first choice - regardless of the quality or longevity. Unfortunately, that's how most roofs are chosen!

The reality is that the saying, "pay me now or pay me later," becomes an ominous reality when this occurs. The fact is that a low-end roof is going to have a low-end life expectancy. This means that the owner who took possession of their lovely new home will find that their budget-conscious roof becomes one of their biggest maintenance expenditures all too soon. Because it's not uncommon for a roof to be 50% or bigger than the floor area of a home (and it's sloped, and cut up and a potentially dangerous place to work), the price of replacing a roof can be rather significant. To have to buy two roofs in 15 years or less, when one good one would have done the job the first time around is just very bad economics.

While it's true that upgrading to a metal roof means a significantly greater initial investment - and possibly at the expense of some other bell or whistle at the time of construction - the total expenditure over just a few years can actually be LESS when comparing total cost of multiple cheap roofs (like asphalt composition shingles) to a long-lived option like metal.

With metal roofing offering more styles and shapes than any other material you could buy, and the fact that over just a few years it can be quite economical, it may be time for those building new homes to reconsider the "bottom up budget" routine and take a serious look at "top down budget" planning. Get our free re-roofing booklet for a comprehensive overview of the most common roofing material for a re-roof or new construction, or contact us today for assistance with your project.