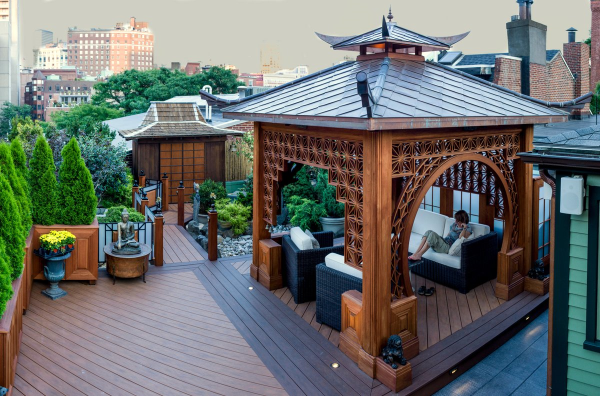 This client's project was an attempt to create a reverential spot in the form of a Chinese tea house on the roof-top space of his urban apartment. He wanted copper roofing for both beauty and longevity. Because tea houses are traditionally economical and intimate in size, the scale of the roof components was a critical factor. After extensive research on the traditional style, the client decided that our S-10 diamond roof shingle in solid copper was the most appropriate size and style. As one of the smaller standard copper roof products on the market, this diamond offered a scale consistent with the size of the tea house, while at the same time offering interesting detail in a low-profile design.
While aware that the distinction exists between Japanese, Chinese, and other Asian cultures in their specific architectural elements, we don't claim to be experts. However, in this case we understood the Chinese influence our client was after and were enthusiastic in designing the copper elements to the appropriate outcome.

In addition to the diamonds, our client wanted to make sure that all of the other details were consistent with the Chinese variation of this Oriental theme. We provided our very unique "Bamboo Style" hips to compliment the S-10 copper roof diamonds. This hip design was ideal as the shape mimics the look of bamboo, while its small dimensions were also very compatible with the overall style and size of the tea house roof. The very different copper hip ends, with their dramatic and proud up-sweep, was the most pronounced part of the project. The end result is obviously noteworthy.

In the end, the cooperative effort between the vision of the owner and the design and manufacturing capability of Metal Roof Network resulted in a beautiful, perfect little structure with its own unique execution of the classic Chinese tea house style.
Like this? Want to see more? Check out our diamond shingle gallery for more photos of this impressive roofing material, and learn more about copper roofing with our free copper roofing facts and details sheet.