One of the most confusing things building owners face when investigating metal roofing is the enormous range of prices. Almost no other architectural finish has such a dramatic difference between the lowest and highest prices. Understanding why is critical to choosing the best option for your home, so here are three things you absolutely need to know about metal roof prices (that your local big box store won't tell you!).

1. THERE ARE MANY DIFFERENT METALS USED FOR METAL ROOFING PRODUCTS.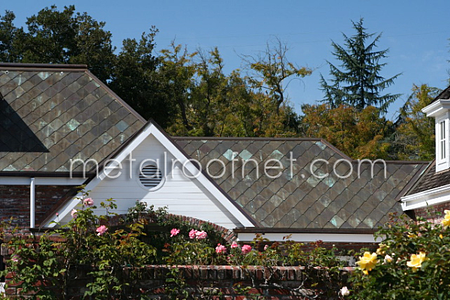 Steel, plated steel, aluminum, copper, zinc, stainless steel, tin, titanium - all of these metals are processed into sheet metal and are used to make metal roofing. At the low end of the scale is usually steel (most often "Galvanized," "Zinc-Alum," "Galvalume," etc.), and the high end includes various versions of the "exotic" metals like titanium, stainless steel, copper and zinc. As a rule, the more expensive metals are also the most corrosion-resistant. More corrosion resistance means a longer service life as a metal roof. You have to know what TYPE of metal is used in making the metal roof you're considering in order to have an idea of its relative value.

2. THERE ARE MANY DIFFERENT THICKNESSES AVAILABLE OF EACH TYPE OF METAL.
Each of the metals mentioned can be made into different thicknesses (or "gauges") and then made into metal roofing products. At the thin end of the scale are metals as thin as .011 inches (that's 11 thousandths of an inch, about the thickness of many business cards) or "29 Gauge" (remember, the higher the gauge, the THINNER the metal!), and at the thicker end of the normally-used roofing metals you'll find metals in the range of .033 inches or "22 Gauge." There are thinner and thicker metals available for specific applications, but these thicknesses cover most of the sheet metal types used for architectural metal roofing. For any given TYPE of metal, the THICKER it is, the more you should expect to pay.

3. THERE ARE MULTIPLE TYPES OF FINISHES AVAILABLE FOR MOST TYPES AND GAUGES OF METAL ROOFING.
In addition to the fact that there are different metals in differing gauges, there are also different finishes which are often applied. While many of the metals made into roofing can be available without a finish (copper being probably the most commonly available in this manner), most of the steel and aluminum roofing products commonly found have a finish applied. These are usually factory-applied paints of different qualities intended to give the roof metal a specific color. These metal paints also provide an additional layer of corrosion resistance. The quality of the finish applied to a given metal for roofing will also affect the price, and just like type and thickness of metal, it costs more money to get a better quality finish.


The picture of our pre-aged copper diamond shingles at the top of this post is an example of a premium choice. The photo to the left is of our Value Panel, an example of a typical low end metal roof.

Because of all of these elements, it's possible to have metal roof prices for a given job vary all over the map. One thousand square feet of metal roofing material in the cheapest steel, in 29 gauge with the cheapest finish, might cost less than $1,000. The same surface area of pre-aged 22 gauge copper (like our diamonds) might cost up to $15,000. It's a crazy range or prices for any given job, which shows why it's so important to consult a metal roofing expert before making a decision.

Incidentally, many lumber yards and building supply outlets can be great places to buy construction materials, but very few offer experienced insight and knowledge of the many types of metal roofs. If you're seriously considering a metal roof, stick to companies that use or supply metal roofing as part of their normal business.
If you have an upcoming project, use our free estimate form today or visit our Resources page for handy downloads and more.