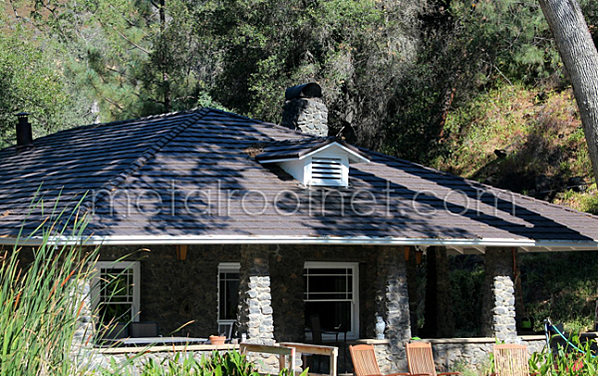 The owners of this northern California winery wanted to re-hab the roof of the century old home that was the most interesting of all of the buildings on the property. They wanted something that would preserve the architectural feel, be aesthetically consistent and feature all of the benefits of a modern metal roof.
Besides choosing metal for its permanence, they wanted to reduce the roof weight on the old building. And with our Energy Star certified steel shakes, they certainly did.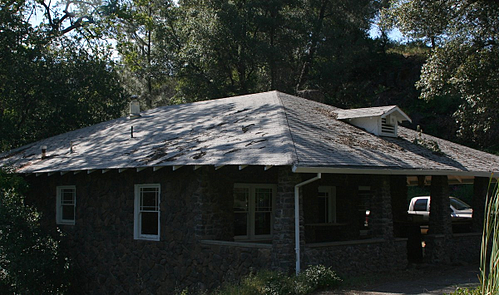 Replacing the existing multiple layers of old asphalt shingles pictured here reduced the weight of roofing by nearly eight tons!
In addition to saving weight on the structure, they required something with a smooth finish that would help reduce the accumulation of dead leaves and branches that inevitably fall from the many old trees surrounding the old home. Again, our metal shake fit the bill perfectly. The photo below shows that even after two years, very little debris finds a way of staying on the smooth finish of this particular metal roof profile.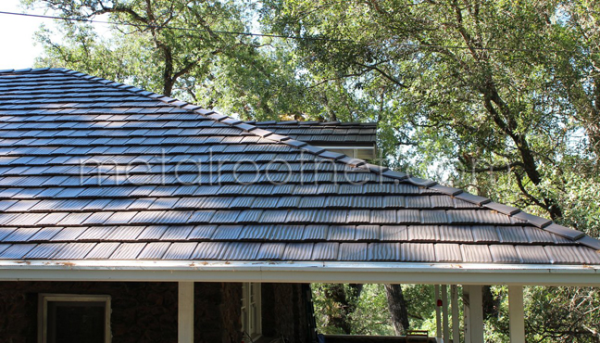 Fortuitously, the non-combustible nature of the new metal roof turned out to be a blessing - just one year after the new roof was installed, a major fire burned within just 50 feet or so of their vintage stone building. Fortunately, the new metal roof offered nothing for the falling embers to burn and the home escaped unscathed - even though many other homes and buildings in the area weren't so lucky.
Overall, it was a very successful and pretty re-roof project. It will never need be replaced again in the life of the home. The metal roof and stone walls mean the exterior maintenance on this building has been reduced to an absolute minimum Projects like these are always a source of pride because this particular roofing material solves all of the problems that many other roof materials present, with the added bonus of making the old building look better than ever.
Interested in learning more about our Energy Star certified roofing materials? Contact us, use our free estimate form or give us a call today, and let us show you how efficient, durable and beautiful a metal roof system can be on your home.