We were fortunate enough to have been approached by a gentleman with a very interesting and unusual home nearly a year ago. He knew that his wood shakes were near the end of their lives and he was adding an addition, so he was shopping for a new roof. As you can see by the photo below, his home is architecturally unique and he was seeking a roof material that was eclectic and distinctive to complement this forest retreat.
He contacted us because his home is located on a hill in a heavily treed area near the California coast, so fires are always a concern. He was shopping for metal roofing because he knew it would be a safe choice should a burning ember fall on his house one day. In addition to being metal he wanted something rustic and natural, and most importantly it had to be suitable for installation on his round structure. It made for a very short list of options - so we designed a new option just for him.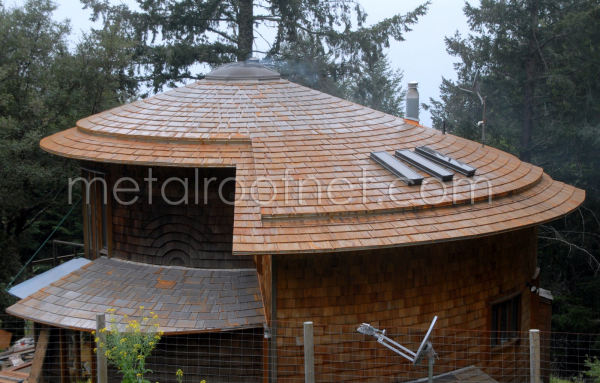 We chose Corten natural steel because the patina of rust would provide the look he was after, and from there we worked together to design a replica of a wood shake with enough texture and depth to offer a similar feel. Then we configured the pieces so they could be installed in decreasing-radius concentric circles. We made them so there was no necessary pattern to accentuate the "homemade" theme.

The result is one of the most interesting roofs to be manufactured in a very long time. It's non-combustible, round, solid, long-lasting, rustic and unique. The Corten Random Roofing Shake is turning out to be a winning design. The photo above is one of the first after the completion of the installation, and you can see which sections were installed first and which were installed last. The rust has clearly formed on the former, while the newer section is still shiny metal. That won't last long, and we'll be sure to get some photos of the completed job after the lovely red rust color has fully developed.
If you've got a roofing project that's out of the ordinary, let us help you design a custom solution. Get a free estimate or call today.