Our diamond shingles are one of our favorite profiles - nothing else makes quite the same statement. So have a look at a current project featuring this distinctive roofing style.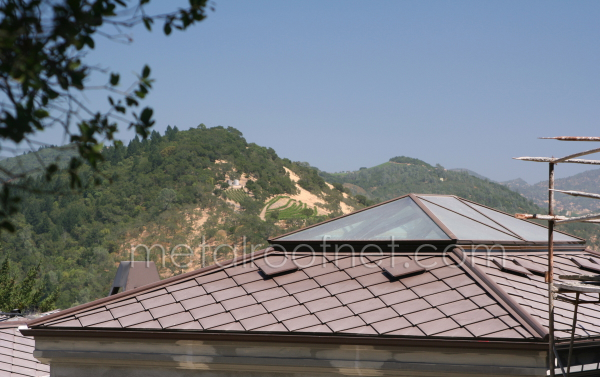 The installation contractor is making good progress with the S16 metal diamond shingles, and the photos show it's coming along nicely. Note how much texture they add to the roof plane while at the same time remaining so symmetrical.
This customer wanted a metal roof for its practical benefits (light weight; fire resistance; high wind resistance; long life; low maintenance), but one that would add architectural distinctiveness at the same time. They also wanted our diamonds in a color that closely matched their window trims and rain gutters to tie all those elements together. It took a lot of sample metal finishes, but we finally found a color remarkably close, and we produced them in a PVDF finish on zincalume steel. The finish is extremely durable and comes with a 35-year warranty, making it about the best on the market.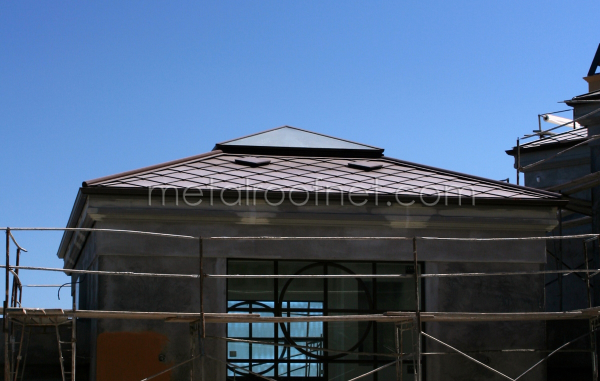 It's a great thing when you're able to get your most distinctive metal roof product on such a high-profile project, and we're delighted with the positive response from all involved. Stay tuned for customer feedback and more photographs as the job progresses!
And if you're considering metal diamonds - or metal roofing of another kind - we're always happy to oblige. Visit our Resources page for free downloads or get a free estimate today.