Our previous blog posts on copper roof look-alikes ("Copper Looking Metal Roofing - Is there a Good Fake?" and "Metal Roofs that Look like Copper Roofs (But Aren't!)") have proven to be quite popular, so we decided to elaborate on the topic once again.
The question of the hour is, can you fake the look of a real copper roof with another material? I certainly understand why we often receive requests for a metal roof that "looks like copper" but costs considerably less. Considering that a real copper roof can cost as much as $10 to $15 a square foot (compared to finished steel roofs that can cost as litle as $1 a square foot), it makes perfect sense that a faux copper roof would have some appeal.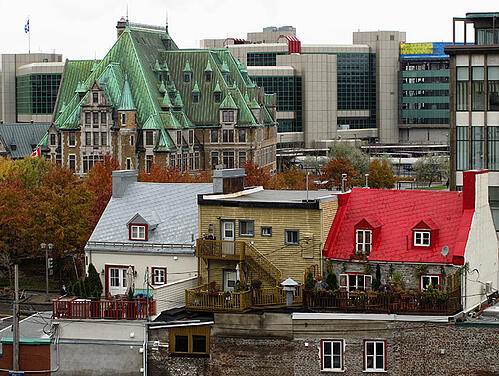 And since there is a veritable rainbow of colors that can justifiably be called the color of copper, our follow-up question usually involves the shade of copper a potential customer is envisioning. Take a look at these pictures of the government buildings with copper roofs (not our roofs, unfortunately!) and you'll quickly get the idea that copper installed on a roof takes on a rather broad range of colors - from the shiny "copper penny" look of a new installation, to browns and grays and blues and greens and all the variants in between. These variants can even occur on the same roof at the same time!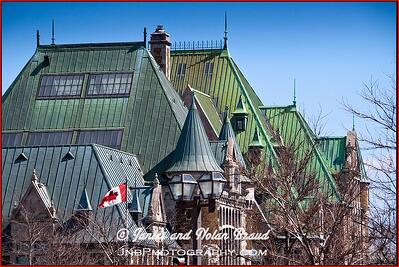 So, with that in mind, is there a good fake? Kind of. There are a big variety of finished (ie. "painted") metals (mostly steel or aluminum) that have colors which attempt to replicate various stages of the ageing of copper on a roof. With names such as "weathered copper," "antique patina," "dark bronze" and the like, we often get asked for samples of these colors as the labels conjure up some of the cache of a real copper roof.
It's quite amazing how often the receiver of these samples is disappointed by what they see. Their imagination of what can be done to replicate copper is often far more creative than any finish that can be produced on a mass-production paint line. The single way just about anyone can identify a real copper roof is precisely due to the streaking, multiple colors, and unevenness of the finish. Unfortunately, anything made on a production line will be characterized by the opposite: a consistent uniformity. Even though the color may be a dead ringer for any given square foot of a solid copper roof, when it's evenly distributed over the entire area of an actual roof, the uniformity is a sure giveaway that it's just not the real thing.

Regardless of your budget, we'd love the chance to suggest the most appropriate metal roof for your project - copper if the budget allows, or even just the best of the "fakes." Either way, you'll get a roof that will last many, many generations. Just don't think that a fake of anything will fool anyone looking closely!
Check out some of our helpful freebies on copper and metal roofing on our Resources page - our FREE copper roofing fact sheet, comprehensive re-roofing booklet, comparison sheets for metal vs. shingles and metal vs. concrete. Or just get to it with our free estimates!