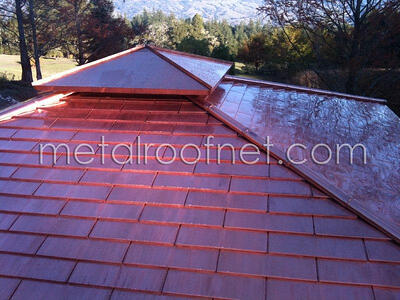 Check out one of our latest projects - custom copper shingles on a tea house in California's spectacular wine country!
The project: a one-of-a-kind tea house that needed a roof with special details to make it as unique as the structure.
The requirements: something that would emulate classic Japanese style - narrow, horizontal rows of shingles with a regular, low profile.
The perfect material: custom-designed copper shingles made to order with a very narrow row-to-row "reveal" of only six inches - as elegant and beautiful as the structure on which they rest.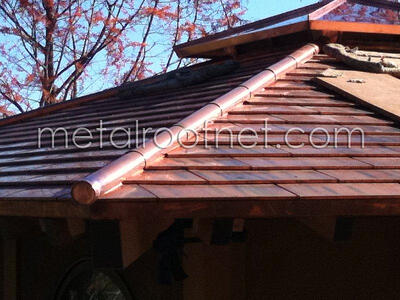 MRN designed the shingles with a special "gutter" between every one to allow for a very regular and simple look. The hips were designed and manufactured to emulate the appearance of bamboo, so we made a small, round, segmented section with a very tight radius that gives a very good impression of bamboo. The cupola on top is a very heavy copper that was chosen to reduce waviness and create a very geometric crown to the building.
The job is ready to be aged with a chemical patina solution to make it look distinguished and weathered. Stay tuned for more pics of the completed project and a review from the customers. But so far, so good!
Interested in our copper roofing? Call or click today, and let us help you choose the perfect copper roof for your project.