Q. What is a standing seam panel roof? What makes it appropriate for residential applications?
A. Excellent question! This is a profile you often see used in industrial applications, but it can be a very flattering look on the right home too.
"Standing Seam" metal roofing is the term used to describe metal roofing formed with a flat (or mostly flat) panel ending in regular, upturned seams running vertically up the roof every 12-20 inches or so. The seams nearly always hide the screws or nails that hold them to the roof structure (thus the often heard term, "concealed fastener"). There are a big variety or types and sizes of seams, and they generally fall into two general categories:
1. Mechancially seamed panels are usually installed with the upturned edge at the sides of each panel attached to the roof deck with some sort of clip, and then the upturned seams are butted together and folded over each other with a tool effectively crimping them together and concealing the clips.
2. Snap panels are panels where the formed shape of one panel overlapping the next "snaps" the female side over the male side preventing them from coming apart.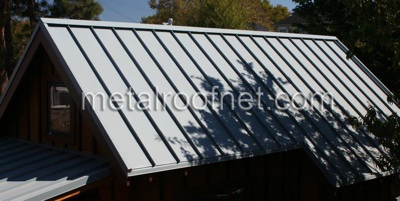 Either of these types can be made with any number of commonly-used metals (steel, aluminum, copper, zinc, and others), and all can be made with different thicknesses (or "gauges") of that metal. Also, the distances between the seams can vary as well as the height of the seam. Such decisions as seam type, metal choice, gauge, seam spacing and seam height all effect the performance, appearance, and of course the price of the finished roof. And that means the quality of the resulting roof can be widely divergent - even though every one can be called a "standing seam" metal roof. There are literally hundreds of combinations of these elements (NOT counting the range of color choices for the finishes available on steel and aluminum), so it's near impossible to recommend a "best" combination for all applications, but a consultation with a metal roof expert will quickly boil down the most desirable combination for a given project.
The first image in this post is an example of a mechancially seamed panel in "Weathered Copper." The second is our "Old Barn Tin" in a snap lock panel. Even an expert can't tell the difference from a distance!


If you need help choosing the best one for you, just drop us a line and we'll help you decide.