FREE 3-Page Metal vs Concrete Comparison Sheet
Wondering how metal roofing stacks up to concrete and clay-based tiles and shakes?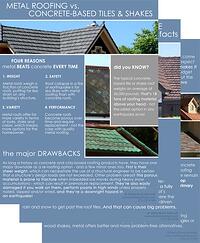 Download our FREE comparison sheet and find out!
A "just-the-facts" comparison that covers performance, weight, durability, warranties and more


A look at what you'll spend for concrete roofing and what you'll get -

and why there are far better
alternatives for someone ready to re-roof!

Relevant details about both materials so you can make the best decison for your home and your budget
Get the facts now and become a more educated roof consumer before you spend a penny!