free copper roofing fact sheet

Considering copper roofing for your project? Download our FREE fact sheet for useful and relevant details about this premium roofing material!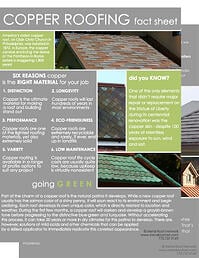 Six reasons copper is the right material for your job

The truth about accelerating the patina process - and why you shouldn't trust just anyone to do the job right!

Three reasons MRN should be your source for copper roofing in any profile
Get the facts now and become a more educated roof consumer before you spend a penny!